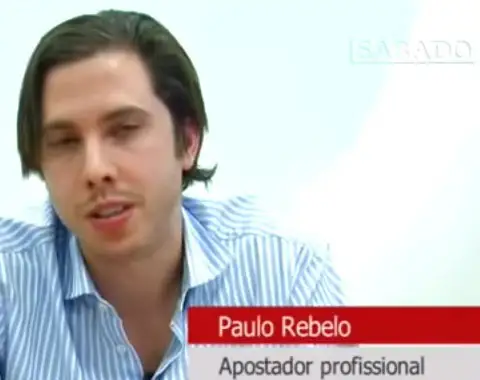 Interview published on the weekly magazine Sábado on March 10th 2011.

"A single match can net me 25 thousand Euros."

"To make a profit I have to analyse everything: the teams, the stadia and the team's morale. You can issue thousands of orders per match."
The full interview is available as a PDF download, but we will provide you with some excerpts.
"Paulo Rebelo started placing bets on football matches with 50 Euros and today makes a living out of it. At 28 years of age he already has 3 houses and 2 Ferraris."
"A single match can net me 25 thousand Euros."
"To make a profit I have to analyze everything: the teams, the stadia and the team's morale. You can issue thousands of orders per match."
"He is a Benfica fan but, when he's betting, Paulo Rebelo can even profit from his club's defeat. It's been 5 years he's been making money analysing the online betting markets. That means that during a football match he's buying and selling bets through the Betfair site."
"Nowadays I work with my team, Benfica. When I was starting it gave me a bad time though, with a lot of losses: In my mind Benfica would always win."
At the end of the interview, Paulo Rebelo also gave us a video interview where he gives us some betting tips:
To SÁBADO, the bettor gives some tips to those who want to bet online.
One of the mistakes people usually make is to think that with a lot of money you can make a lot of money through betting. It doesn't work like that, those who can't win money with 10€, won't win with 1000€ as well, with that in mind start with little money and only raise your investment when you are able to consistently have profits.
When we lose a bet and think it is unfair, because CArdozo missed a penalty again and we lost money there, the endency is to seek the next available match and bet right there without even knowing any of the temas playing, "let's bet on the yellow ones", this is a huge mistake, one we make with the intent of quickli getting back our lost money. So, if we demand of ourselves to always justify our bets, this "get back our lost money" is obviously not a valid reason and just like that we are able to avoid these common mistakes that many times make beggining bettors go bust.
Don't bet on your club. Why?
With our favorite club we are less able to think rationally, we always have the feeling that they will win, that happened with me with Benfica, for me, Benfica would always win even if they were losing by 2 at the 85th minute I would think they would score 3 and win. It's a bit hard to separate the two things, what we want, for our club to win, and our ability to think that it is a valuable bet.
Success can lead to mistakes, that is, success can make us lose money. Why?
Firstly, for the most stupid reason of all, that is, when we're on a positive series and we're making good market and bet analysis and were choosing a lot of value bets, we have the tendency to think that we'll get everything right and we start firing bets left and right which, on the long run, will make us lose money.
Another situations that happened to me once. Systematically, after my most successful month I would have a month of utter failure. A good better must work hard, he must have the capacity to interpret the market and find valuable, lucrative bets. But, before all that, a bettor has to be lucky enough to be on the market when the good bets also are. As such, when there are no good bets to be made we should not "force it" and simply make them appear. We should not impose upon ourselves any kind of objective, because we are not in control of every factor that might influence a bet.
Download the full interview PDF.