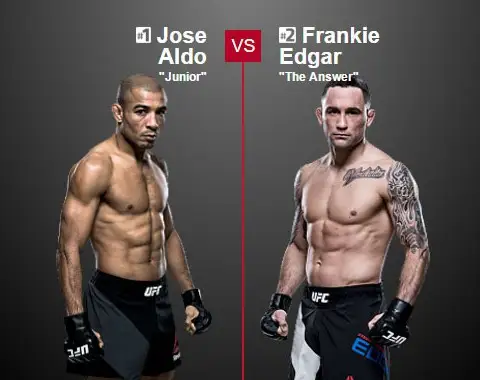 José Aldo is one of the best Brazilian fighters in UFC, with only 1 loss since 2005, after he has been beaten by Conor McGregor. Frankie Edgar held on to the title for 2 years, when he changed weight categories.
We expect a balanced fight, but José Aldo seems to have more arguments to win...
José Aldo is one of the best Brazilian fighters in the UFC, with a record of 25 wins and 2 losses. He only lost against Luciano Azevedo, at the 2005 Jungle Fight. He then went on for 10 years with no losses, including 7 UFC fights, having beaten all the best in his weight category, some of them quite easily.
His second and last loss was against Conor McGregor, in a 13 second fight, which ended in a knockout. Both fighters threw a punch, but McGregor timed it more accurately and got the knockout. José Aldo wanted his revenge immediately, but the UFC didn't agree to that and since then McGregor moved up in the weight category and lost against Nate Diaz.

Frankie Edgar is a 34 year-old American fighter, who has had great moments in the UFC. In 2010 he has beaten B. J. Penn and got the title, but lost the title 2 years later, against Ben Henderson. Since then he changed weight categories and fought champion José Aldo in 2013, having lost by unanimous decision.
He has won 5 fights since then, against Charles Oliveira, B. J. Penn, Cub Swanson, Urijah Faber and Chad Mendes in great fights that have allowed him to win 2 performances of the night and one fight of the night. Onde again Edgar seeks the belt, but he needs to do better than in his last fight against the Brazilian.

José Aldo's greatest opponent is himself! The Brazilian is an excellent fighter who has only lost twice (the first was over 10 years ago and the last was against the sensational McGregor). José Aldo has the potential to beat anyone, even McGregor, should he have the revenge fight he wants. As Frankie Edgar, the American is a hard fighter, but he seems to be no match for the Brazilian. We surely expect a balanced fight, but José Aldo has more arguments and should get the win.
Betting Suggestion:
José Aldo to win – 2.00 – Bet365
Recommended reading: "Tips to Bet on the UFC"