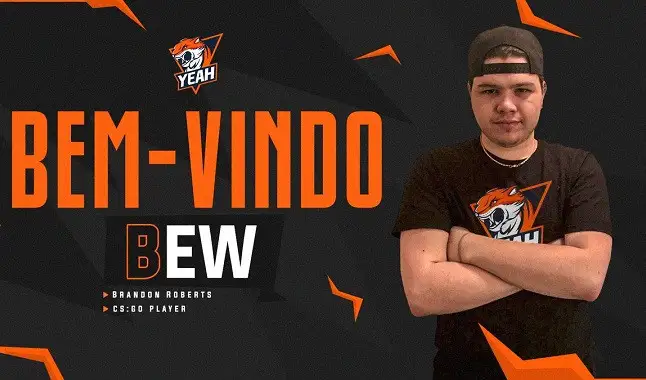 The player "bew" was hired by Yeah Gaming; check the details.
With the absence of player Alef "tatazin", the Yeah organization found itself having to call in reinforcements for its cast. This past Friday, it was made official that the American player "bew" had been hired by Yeah Gaming. The Brazilian Counter-Strike: Global Offensive team announced that the player was already training and playing for the organization on a temporary basis, participating in the ESEA Autumn Cash Cup and Dust2us Masters FPL Cup, with the team.
Taking advantage of the cue, the American commented on the current situation with his teammates, saying: "My relationship with f4stzin, dumau and RCF has been great so far, they're pretty easy to get along with and for Swisher, we've known each other for a little while now and we've always been cool with each other. With that being said things are going in the right direction.".
In addition, the professional reported a little about his expectations for the future together at Yeah Gaming: "I feel this team has a lot of promise already in NA. Right now im just trying to build our chemistry together as teammates and as friends."
Finally, "bew" stated that he expects to see the team within the main CS: GO tournaments: "I hope that we will be able to have good performances and qualify for the main tournaments. We must always learn in each game played and continue to grow as a team".
Current Yeah Gaming squad
Arthur 'f4stzin' Schmitt
Brandon 'bew' Roberts
Eduardo 'dumau' Wolkmer
Michael 'swisher' Schmid
Rodrigo 'RCF' Caponero
Guilherme 'mza' Donini (coach and manager)
Brandon Roberts, better known as "bew" or "BOOBIE", became known in the competitive environment of Counter-Strike: Global Offensive for playing for the New England Whalers team from December 2019 until October 2020. The 23-year-old professional spent time with the ex-Atmosphere and Ascent teams in the past, until he joined the New England Whalers. Now the player will be playing for Yeah Gaming.