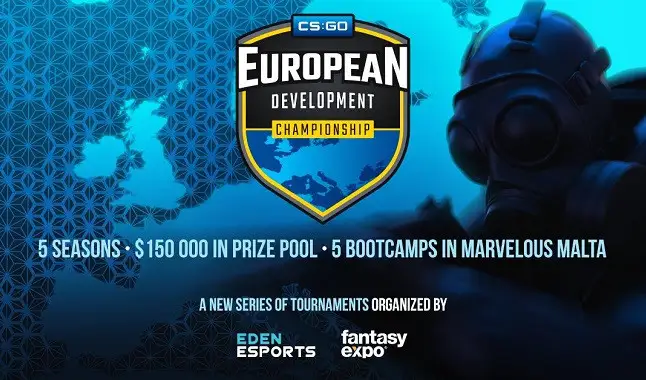 With a guaranteed prize pool of US$ 150.000, Eden Esports announces the European Development Championship; check the detail.
This past Friday, Eden Esports announced the European Development Championship with a guaranteed prize pool of $ 150,000. Eden Esports, current organizer of the Counter-Strike: Global Offensive competitions Malta, SuperNova Malta, Champions Cup and Malta Vibes, will team up with Fantasyexpo to create a new series of tournaments, which will be the European Development Championship.
The competitions that will envolve this new series will have the objective of promoting regional teams and broadcasters that still do not have a good visibility within CS: GO. Series partners will receive a seat in the tournament so they can buy the rights or use it to invite other teams for both qualifiers and regional broadcasts.
It was clarified that sixteen teams will be part of the main tournaments in the series. The first qualifying games are scheduled for November 14, 15, 21 and 22. In the meantime, the wild card is expected to take place from 27th to 29th November. The main tournament is projected to start on November 30th.
The $ 17,500 prize will go to first place, followed by an opportunity to bootcamp at the InterContinental hotel in Malta. The teams that occupy the second position will have a prize of US $ 7,500. While the third parties will keep $ 2,500.
"The launch of the European Development Championship is a consequence of the longstanding dominance of several countries with the strongest teams that leaves fans from many nations unable to follow their local teams regularly." - reported Eden Esports CEO Sergey Bidzan, who added: "We believe that through partnerships and slots dedicated to regional representatives we can start to change the situation for the better."