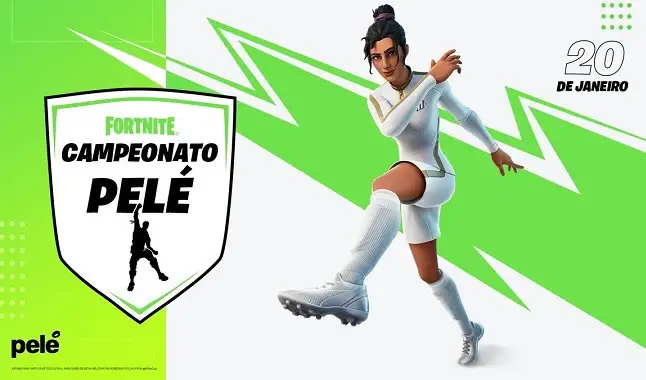 Playmaker Pelé closed a deal with Epic Games; stay in.
Edson Arantes do Nascimento, better known as King Pelé, closed a deal with Epic Games to promote a Fortnite championship. Epic Games is developing a series of special actions, specifically the Pelé Championship. The tournament in question foresees that the target audience is for youngsters over 13 years old, and it started this Wednesday, January 20th.
Epic Games has already published that, for registration in the tournament, the player must guarantee the Open League, Division I, II, III or higher. After that, the player must enter the "Compete" space and locate the "Pele Championship", within Fortnite.
In the Pelé Championship in Fortnite, each player can play in their respective regions during the event, which is expected to last about three hours and ten matches per session. In Brazil, the event started at 6 pm and ended at 9 pm. Prizes can range from custom Santos shirts signed by King Pelé, to rewards that are linked to the football star. One of these rewards linked to the King, is the famous "Punch in the Air", together with the "Kickoff". These items in question will be released from January 23rd.
The "Kickoff" was a means of making the interaction between football and Fortnite players, so that both identify and start supporting football clubs within the game scenario. The "Pontapé Inicial" package will feature 10 variant models for women and men, including Brazilian teams, such as Santos and Bahia; and international teams like Sevilla, Milan, Roma, Sporting, Inter Milan, Juventus, Manchester City and other clubs.
With this great partnership for eSports, we can expect a gigantic exploration of the sports betting market in relation to electronic sports. It is worth remembering that since 2020 the offers for the sector have been in a growth phase, which involves different types of content.